We knew what the weather had in store for us on Easter Monday, so we were well prepared for a very wet walk to St Albans Cathedral.
Paul, Mary and I set off from St Luke's at 9 am and met Caroline and India, our youngest pilgrim, in North Watford. The by now familiar route and landmarks were still a pleasure, and we were entertained by horses wildly galloping around the fields on the Munden Estate.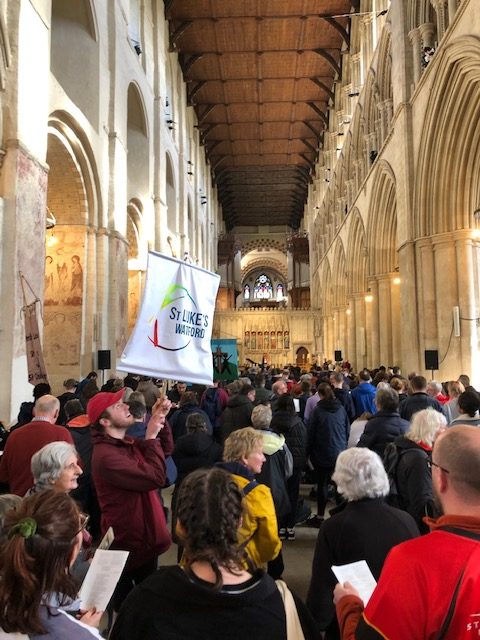 We found a sheltered spot under some trees, by the side of the River Ver, for our coffee and to our surprise, India suddenly spotted Jeremy H who had bravely decided to run to meet us. In Bricket Wood we met Pam, Dean, Mimi and Reef, and as always, it was exciting to wave to motorists on the bridge while crossing the M25 and see them waving back, flashing their lights and sounding their horns (the children enjoyed that too).
While squelching our way over some very soggy fields we had a precarious bog crossing on a wobbly log, and we were all relieved when the Cathedral came into view at about 1 pm. How grateful we all were to be able to picnic on a pew inside, and see the sun, at last, beaming through the historic windows.
Bishop Alan led the procession around the Cathedral, and we proudly held up our new beautifully painted banner. It was great to meet Jos and Tony there, as well as the Stromberg family. There might not have been quite so many pilgrims this year but everyone sang joyfully, celebrating Easter in a spectacular way.
Please join us next year, at any point along the route.

Jill Rogers